Fundamentals of Yoga at Pizazz Dance Studio
with Andrea Chesnes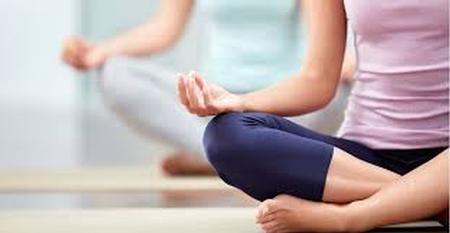 Fundamentals of Yoga at Pizazz Dance Studio with Andrea Chesnes
SIX WEEK SERIES
WEDNESDAYS | 5:45 - 7pm Beginning October 5th - November 9th
SATURDAYS | 10 - 11:15am Beginning October 1st - November 12th
* * No class Saturday October 22nd. Class resumes Saturday October 29th
SIX WEEK SERIES Drop-in $15 or all six classes for $85
Please bring your own yoga mat!
Using the styles of Iyengar, Ashtanga and classical yoga, Hatha classes move through a variety of poses, themes and focuses. The poses and themes will be chosen to suit those present and aim toward a balanced body and mind: aware, powerful, and present. Valuable to beginners and experienced practitioners, the pace of Hatha classes are slower than a flow class and provide opportunities to play with the foundations and subtleties of poses. Students are given suggestions for a range of possibilities so that they can express each pose in a way that suits and addresses how they feel. Classes contain asanas (poses), pranayama (breathing practices) and meditation in order to address health and well-being on all levels.
Andrea Chesnes I am a Turners Falls girl teaching all over Western Mass. Though having 200hrs formal training and 5 yrs teaching experience in traditional Iyengar Hatha yoga, my teaching style is an amalgamation of many. My strengths are found in the technical skills of alignment, a mindful approach to each pose, emphasis on breath work, guided mediation and a rich practice in breathing technique (pranayama). I do my best to tailor each class to the space at hand so that every student is attended to. Practice is filled with joy and laughter for me so it easily permeates into any room. My hope is that each class gives my students the opportunity to see what it is, experience how it is, and develop a strong sense of who they are through conscious physical practice. Developing an asana practice unlocks the door to all the qualities of mindfulness one needs to begin a meditation practice.
PIZAZZ DANCE STUDIO 6 Pierce St. Greenfield, MA
Contact Andrea @ 413-824-7100 soleyogabuddha@gmail.com sole-yoga.com
Posted: to General News on Thu, Sep 15, 2016
Updated: Thu, Sep 15, 2016