Welcome Letter
2022-2023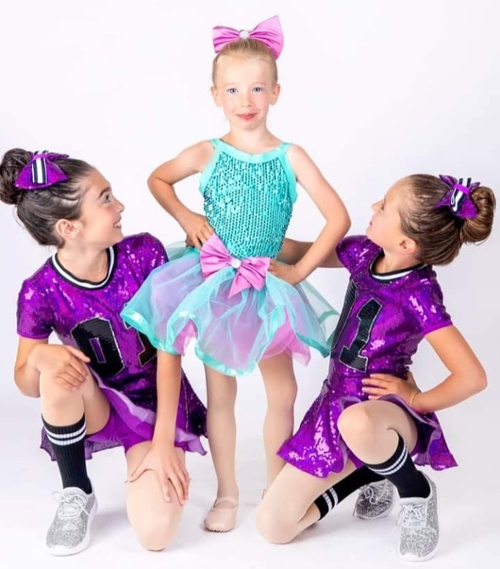 Welcome to our 2022-2023 Dance Year!
We are very excited to start our new year with you all. Welcome to our Pizazz family!
Here is a couple of things before we start. First Day of Dance Monday September 12th
Everyone must be kind and respectful at Pizazz.... we are here to build and lift confidence in each person that walks through our doors.
Tuition: tuition is due the first week of each month. We are no longer taking personal checks. Venmo @pizazzdance6 Caitlin Vautour or cash please. A 10.00 late fee will be added to your account if received after due date. Please remember that tuition is broken up into 10 months. Sept-June. Tuition is non refundable
Parking: there are a couple spots over at Walgreens but I would suggest street parking or the parking lot behind the church and using the cross walk. Please do not park or turn around in the driveway next to the studio and please don't park there as well. Parents may drop off older students please be careful pulling up by door dancers run in and out of studio. Please look for no parking signs you will get towed!
Dance Floor: dancers are the only ones to enter the dance room. Parents and siblings are asked to stay and wait in waiting room quietly please. Dancers get easily distracted and shy if others are in watching. I know it's very exciting the first couple of days and you want to get videos and pictures but please use the window! We also ask dancers to wait in waiting room for teacher to let them come in. This allows the teacher to set up and prepare for their class. If classes are held in the back room there are no observation window and ask parents to wait. Dancers who are 5+ can be dropped off and sometimes it is best!
Waiting room: please remember to be respectful in waiting room and clean up after yourselves. We ask no chairs in front of window that way everyone is able to see. Please no running around dancing or flips and cartwheels in waiting room. And please do not play with garage door or climb on gate in front of garage door
Dance attire: please wear something you can move in. Tap shoes if you are in tap and ballet or lyrical shoes if you are in ballet or lyrical. Jazz musical theater can be barefoot. Hip hop should wear clean athletic shoes or barefoot! Hair must be pulled up and out of face!
Mask are optionals unless you need to follow protocols and guidelines. Teachers working with children 2-6 year olds will be wearing a mask to keep everyone safe! Please make sure dancers hand sanitize before entering dance room. Please be kind and respectful. Dancers should bring a water and a dance bag with everything labeled with their names on it. Please only water and no glass bottles. Little dancers with combo classes are asked to bring their dance shoes in when class starts and we will help them switch them into their ballet shoes. Parents are asked to stay in waiting room when we are changing shoes. Please make sure dancers have dance bag and everyone labeled.
Dancers should go to the bathroom before class to help with distractions.
Parents of Tiny dancers (ages 2-4) please please don't give up on your dancer. The first 6 weeks are very hard and transition can be super hard a lot of tears but please I promise they will adjust and fall in love. If you need to the bandaid trick we can help you with that and don't worry about the crying and screaming we will do our best to help calm and comfort them. If it is too hard we will ask if you want to sit with ur dancer in the back and watch and observe. If you do we ask one parent to sit with them. Parents in the past have had to join in on dancing but that becomes too much of a distraction and once one parent does they all want their parent so we are going to try to limit that if we can sometimes it's the only thing that will work. If your dancer is running around and screaming or slamming doors you may come in and remove dancer until they calm down. The first couple of days we will be getting to know each dancer and getting to know the dance space and routine. This helps ease everyone back into the routine and gets them excited to come back each week. This is another example why we do a 10 month program.
As classes start the first couple of weeks we are very flexible and move dancers around to find the perfect fit for each dancer. We also take this time to make new friends and get to know the studio. Our program is a 10 month program to allow dancers to learn the steps/technique and feel comfortable before performing on stage. It is a great way to build confidence. We will start dance routines when we come back from winter break which will allow enough time for dancers to know their routine comfortable on stage for our big recital in June!
Upcoming events and information will be posted on our website but if you have Facebook that is our go to for quick updates! Please like and follow the correct pizazz Dance Studio page! We follow the GPS calendar for snow days and vacation it is also posted on our calendar on our website as well.
Snow days are not made up classes it is something we can not control. If we ever have to cancel a class for any reason besides weather or something out of our control we will post make up dates.
If you ever have any concerns or questions or anything please contact Caitlin directly. Email pizazzdancestudio6@gmail.com or cell: 413.230.0567 you may text!
We are so excited to see you all very soon. We will have special events and dances coming soon with dates like Halloween parties, pajama days, father daughter dances and much more. We also will have Jojo Siwa weekend workshops as well and more!
All information and upcoming events will also be posted throughout the studio and on chalk board when entering the building.
Please don't forget to read our handbook and guidelines and protocols and please make sure waiver is signed for the first day of dance!
September tuition is due !
Cant wait to see you all
Caitlin
Posted: to General News on Sun, Sep 4, 2022
Updated: Sun, Sep 4, 2022